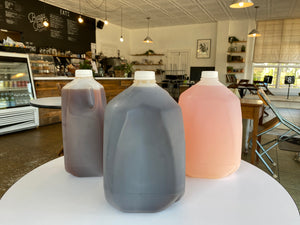 FOR LOCAL PICK-UP CALL 910.722.2076
Enter code PORCHDROP at checkout to be delivered locally to your doorstep. Please allow 24hrs for delivery (excluding Sundays). Leave phone number in notes and we will text you when it's on the way. 
Each jug makes 10 drinks. Please read all of the info below before purchasing. Keep refrigerated. Should last 1 month in fridge, if you have self control. 


Cold Brew: Enjoy cold brew ready-to-drink without having to do any brewing yourself! Just grab a glass, pour over ice, and enjoy! Fix it how you like it or drink it how it is. We use high quality beans, roast, and brew to bring out the unique flavor notes as well as inherent sweetness of the fruit. Makes 10, 16oz drinks served with ice. 
Lavender Lemonade: Just like it takes a great coffee cherry to make a great cup of coffee, lemonade starts with great lemons. We use a specific variety of lemons and squeeze them by hand to make this popular treat that originated at our home. Lavender compliments and enhances the flavor and instantly transports us to our garden in the summer. 
Chai Concentrate: Chai is a black tea brewed with spices and sweetened and mixed with milk. We brew this concentrate for our drinks and now you can make your own at home. We recommend 1:1 ratio of concentrate to milk. 
*These items are not necessarily premade and ready to deliver. They may need to be made ahead. Delivery should be within 24 hours. 


**Local only - call for availability and pick-up if you do not want doorstep delivery. 910.722.2076